Main products we stock: THE ARTristic EASEL WILL IMPROVE YOUR PAINTING STYLE. A ground breaking easel, receiving extraordinary international acceptance and praise. Its ergonomic design instantly improves and enhances your artwork. See it at www.artristic.com

Sold direct to artists on the www.artristic.com web site and through affiliate agents.



This black and white "stamp" below is a QR Code.




Download onto your mobile phone a free QR reader, hold your phone in front of this code and it will take your phone to the ARTristic web site where you can see more detailed information about the easel.

TWELVE REASONS WHY THIS EASEL WILL IMPROVE AN ARTISTS PAINTING STYLE AND APPROACH TO ART

1. Rotate canvas in any direction as you paint.
2. Removes all physical and visual intrusions
3. Paint all four sides of your canvas
4. No bending or kneeling when painting
5. No cleaning your easel between paintings
6. Folds up for car, caravan or storage
7. Move or carry easel with painting attached
8. Takes canvases and drawing boards
9. Attach paintings up to 120cm
10. Paint standing or sitting
11. Adjust painting height while painting
12. Become totally relaxed when painting

http://artristic.com/

This is the first time in the history of art that an easel has been designed solely for the artists visual and physical well being. Over 200 hundred artists of all mediums, ages and skill levels were consulted during the four years of its research and development. Their valuable input was crucial in identifying and solving the frustrations every artist struggles with when painting with normal easels that were designed in an age when an artists well being was not considered. After testing and acting upon the invaluable feedback from painters, the artist inventor of the easel is confident in stating that no artist will reach their full potential until they try painting with this easel.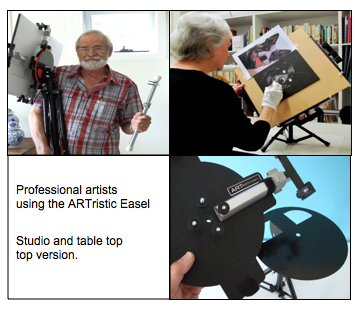 Visit the http://artristic.com/ web site to read what other artists say about the easel and watch the video demonstration. Each easel comes with free bonus gifts and a professional written appraisal of your art.

THE ARTristic MAHLSTICK
SPECIAL OFFER $27.50 PLUS POSTAGE AND PACKING
ORDER NOW AND RECEIVE 3 FREE GIFTS.



The original Mahlstick design that is used by most artists of today, was invented in the 16th century. Since then, the demographics of artists has altered greatly, along with their need for more flexibility and comfort when painting. This new ergonomically designed Mahlstick meets each one of those needs and is suitable for all skill levels and ages of artist.

And this is a picture of my flying cat, watching me paint as I use the ARTristic easel.